For 2011: 3 were anime, 6 were TV show related, and only 2 was from
Legend of the Seeker
. I'm very skeptical that LotS will ever come back. Even Tribune hasn't emerge from bankruptcy and it's been 3 years. Anyways, here are the wallpapers that graced my desktop....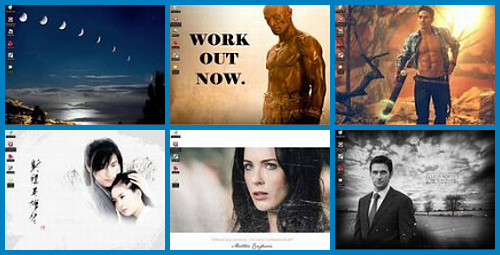 Jan 15: Winter Solstice Lunar Eclipse
I was bummed that I couldn't watch it because of the clouds. Thanks to that livestream from Chile I could share in the experience. Photo from NASA.
Feb 04: Work Out Now
Featuring Oenomaus from Starz's Spartacus to inspire me to work out. I think I only exercised four times up to this date.
Mar 03: Piolo Pascual
My favorite photo from the Bench Paradise campaign.
Mar 31: Jing/Rong
I finished watching Legend of the Condor Heroes (200 and I love this couple! (fanart by sisy at ihuge.net)
Apr 14: Emotional Kahlan
From my favorite Legend of the Seeker episode, "Torn". Emotional Kahlan was hilarious. (fanart by aleynarose@LJ)
Apr 30: Lucas North
Kept me watching the last few seasons of MI-5. (fanart from richardarmitagenet.com)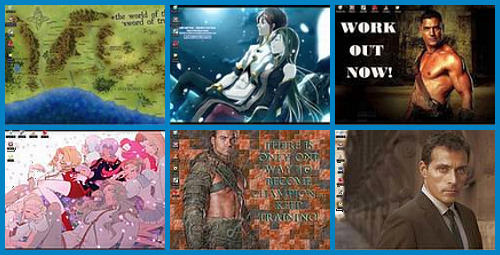 May 09: SoT fan map
A nice updated Sword of Truth map since Goodkind never changed his map. (fanart by halfabubble@Tumblr)
May 31: Luke and Tear
Characters from the Tales of the Abyss game. Makes me want to play it again. (fanart by myhilary.devianart.com)
Jul 19: Work Out Now!
Featuring Crixus from Spartacus and I think it helped because I stuck to the first half of my summer challenge of consistently exercising.
Jul 31: Sleeping SKU Characters
The main characters of Shoujo Kakumei Utena. (fanart by ammi@e-shuushuu)
Sep 24: Keep Training!
This time featuring Gannicus from the prequel, Gods of the Arena, for the latter part of my summer exercise challenge. Planning to do Men's Health's Spartacus-inspired workouts which is up to three now and possibly a fourth since Starz renewed Spartacus for a third season. Looking forward to the show's 2nd season premiere this January.
Oct 15: Zen
The epitome of cool. Rufus Sewell as Aurelio Zen looking dashing in his suit.

Nov 01: Puella Magi Madoka Magica
The main characters from the anime. (fanart by HawthorneKitty at konachan.com)
Dec 23: Our Child
Richard and Kahlan from the episode "Eternity". (fanart by incanta-art@LJ)
Dec 31: Mawaru Penguindrum
A fan's explanation of the anime after the show's ending. I'll miss this fabulous show, do another series Ikuhara!